It feels so awesome to live in the memes era of entertainment. Scrolling down through social media newsfeeds and looking at those one-liners summing up a situation pretty well feels so exhilarating. Every three to four months social media gets the new dose of a meme layout in the form of a popular expression, some random picture or a movie character. The year 2018 has finally entered in its last phase and it is leaving behind a whole new set of memes. The folks on social media are explaining their relatabilities with these Am I a Joke to You Memes which are not only hilarious but also true.
Let's have a look at how this news feed optimized humor is explaining the reality of the situation.
Some Funny Am I a Joke to You Memes
Let's begin with the stuff that seems to criticize over idealistic lovebirds. And. you are definitely going to forget those viral Anushka Sharma Sui Dhaga memes.
I love these 'Am I a joke to you?' memes….. It's basically how I've felt my entire life.#relatable

— Ali (@DudeNamedAli) November 6, 2018
Me : Baby I will love you for a thousand years ♥️
Mortality : Am I a joke to you 😢

— MEME_WALA_BACHHA (@insan_akela) November 8, 2018
Describing the Betrayal
Well, every person here thinks that every other person is a joke. Maybe because their personal interests are always prior to others.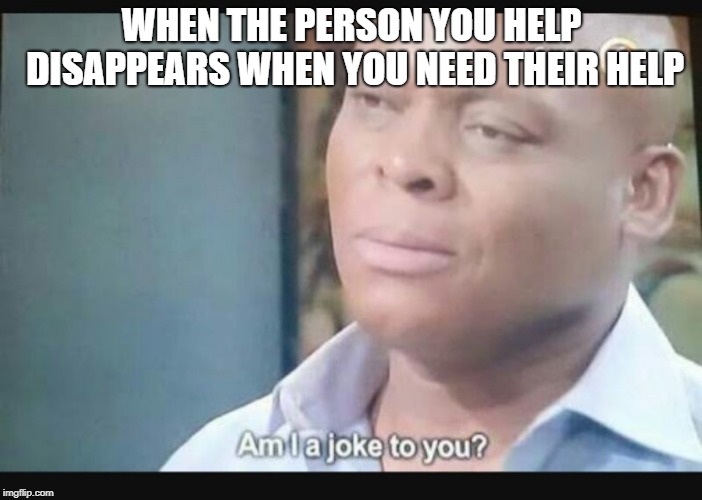 These shouldn't be a realistic situation we wish that glaciers turn out to be a joke.
Humans: titanic is indestructible

Glacier: foh boi

Humans: titanic 2 will set sail in 2022

Glacier: am I a joke to you pic.twitter.com/GkCk0uvfQm

— mutasem daineh (@MrDaineh) November 2, 2018
It is a fact that people nowadays understand the language of memes rather than those signs. Traffic police or concerned authorities should consider using some of the viral relatable stuff so that people find it cool to follow rules.
Robert Frost took the road less travelled by, other road " Am I a joke to you? pic.twitter.com/ymnTjXQiuM

— Aditya (@4DITY4__) October 31, 2018
The meme applies to animals as well
Someone shared the video of a bear playing with his toy version and it was way too hilarious. What this bear would have felt could only be explained in the form of Am I a joke to you meme.
Bear:' am i a joke to you?' pic.twitter.com/WOgz6TAdlt

— Non Aesthetic Things (@NonAsthetic) November 7, 2018
It was not simply about human beings even the meme applies itself perfectly to some natural situations as well.
Chilli : *developed a spicy substance to protect themselves from being eaten*

Human : *eat chilli exactly because its spicy*

Chilli : Am I a joke to you?

— §yuk (@SyukChalamet) October 30, 2018
And, this one was a bit exaggerated.
https://twitter.com/JoseOfalia/status/1057891067591254016
Do you remember those hilarious The Nun memes which were so on point? Same is the case with these  Am I a joke to you memes.
Some more freaking situations where we think that our desire and even our right to claim or money back doesn't matter at all.
Some Serious Instructions
Well, those who take some universal precautions as fun are needed to be taught in the language of comedy. Here, one of those, Am I a joke to you memes come to rescue and convey the message in a lighter tone. But, again only if someone acted upon it and took those pieces of laughter a bit more seriously.
Some folks may disagree with what meme brigade is trying to tell through some universal expression and phrases but people can't deny how piercing and influential it feels to see some relatable stuff in news feed.
Also Read: